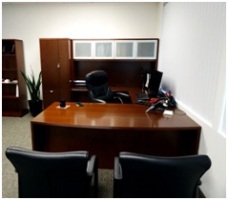 "NM Interiors Group made a tremendous contribution to the success of our office relocation and remodel effort.
At every step, NM Interiors' principal, Norma, was in full control of the details required to achieve our desired result. Her obviously extensive understanding of project prerequisites, from zoning requirements to subcontractor management, project installation and final checklist signoff, meant that the entire process moved efficiently.
Norma was very receptive to our design aesthetic, and provided valuable input and style to our project. Her ability to visualize the environment and space plan is first-rate.
From time to time, we certainly encountered issues of one sort or another. A single call to Norma was invariably sufficient to ensure a prompt resolution
As a result, I have asked NM Interiors to participate in a number of other TASC office remodel efforts."